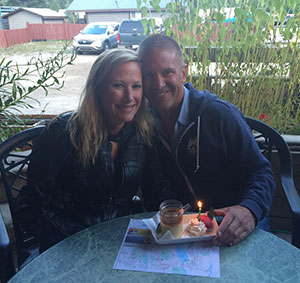 ---
Ewan Lilford
Estimating/Project Management
Ewan Lilford is the president and founder of Kelowna House of Floors Ltd. Ewan was born in Rhodesia (now Zimbabwe), and lived on a 7th generation family farm until 1978 when his family relocated to Canada where they continued to farm livestock. Throughout his childhood and University he excelled in sciences, math & business. From a young age Ewan was mechanically inclined and had a passion for motorcycles, woodworking, construction and anything that involved fixing, repairing and organizing things. He had two successful businesses in the custom motorcycle industry before moving on to the commercial and residential flooring industry. He opened his own business under the name Stone Valley Tiling and within a short period he gained a reputation for great attention to detail, solid work ethics and dedication to excellence in customer service. Again, he excelled on the tools of the trade and had the business acumen and desire to expand his career into flooring sales in 2013 where he has built an unyielding client portfolio in the commercial and residential construction communities. With this experience, he found great satisfaction working on larger scale construction projects where he could express his natural ability to project manage and ensure client satisfaction. He is the proud recipient of numerous CHBA Silver and Gold Tommie Awards.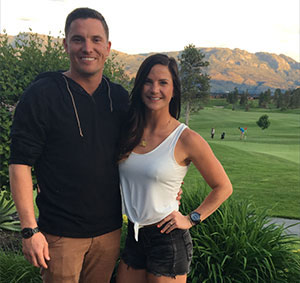 ---
Mike Boyle
Estimating/Project Management
Mike Boyle moved to Kelowna in 2000. He finished his high school diploma at Okanagan Mission High school. After various small jobs during high school he decided to pursue a career in carpentry upon graduation. He attended Okanagan Collage where he obtained his Red Seal Certificate in carpentry. After working for various large builders throughout Kelowna he decided to expand the relationships he had gained and started his own residential building company. This avenue was rewarding for three years when he was approached by a builder to become a site Superintendent with their company. Mike carried on his construction career for the next 10 years working for various builders eventually becoming project manager for Bachelder Construction. After much deliberation, he decided to change paths and began looking for other avenues to develop his career, this is when he met Ewan Lilford. Mikes favourite part of his construction career was the personal relationships he developed throughout the builds, so sales and project management together with the Kelowna House of Floors team was a perfect fit.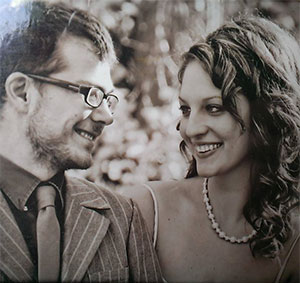 ---
Price Kenney
Estimating/Project Management
Price Kenney was born and raised in Kelowna. In 2006, he spent a year in California where he met a beautiful girl from Missouri who he ended up marrying in the winter of 2006 and brought her back to Canada.
Price started in the flooring business a few years after returning to Kelowna from California when a friend of his asked him to "give him a hand" with some tile work as he had cut off half his finger with a jamb saw, so he literally needed a hand. Price agreed and found out he had a knack for tile installation and fell in love with the trade and spent the better part of the next seven years installing tile full-time. Price and Ewan Lilford met on site as installers and ended up working side by side on several projects. When Ewan made the transition to sales a few years later Price almost exclusively installed on Ewan's projects. In addition to giving Price steady work, Ewan also gave him the opportunity to spearhead some large installation projects, and as a result of this and Price's attention to detail, Ewan encouraged Price to retire the tools and join him in the office. In January of 2017 Price made the move and joined Ewan as a Project Coordinator and has excelled at the position ever since. Outside of work, Price and his wife enjoy books over screens and adventures over routines, and they have three young children that keep them busy and active in the community. Their older two children go to Studio 9 Independent School of the Arts, and their youngest will soon join them.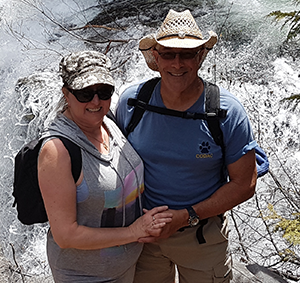 ---
Kathleen Smith
Office Admistrator
Kathy Smith came from the lower mainland and has been a resident of the Okanagan Valley for 38 years with 27 of those years spent in Westbank. Having a background in accounts receivable, collections and administration within industries from collections to real estate she has a well rounded background to support the team.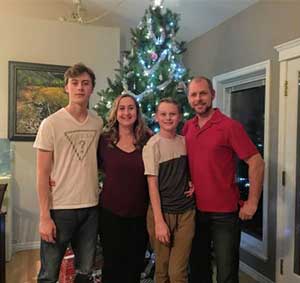 ---
Blair Hansen
Warehouse Manager
Blair moved to Vernon from Williams Lake after graduating high school there and attended Okanagan College. He has been an Okanagan resident for 34 years. For the last 13 years he has been involved in flooring installation, warehousing and trucking. He has been married to Maria for 24 years whom he met in Vernon playing sports. Blair has two wonderful teenage sons,Matthew, 17 and Adam, 14. Blair has been working at KHOF since July of 2018. As our Warehouse Manager he has a busy, demanding position, but somehow he always manages to bring a peaceable presence to whatever situations are going on around him.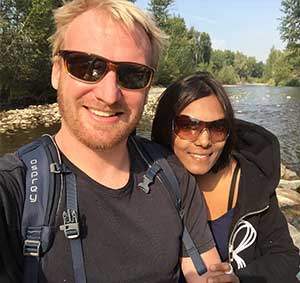 ---
Daniel Vossepoel
Sales/Project Manager
Daniel returned to Canada in 2011 after nearly a decade abroad in South Korea. There he spent his last years developing and creating a successful and innovative ESL learning program for a wide range of students and professional environments. Upon moving back to Canada, he embarked on a career in psychiatrics where he further used his personable talents to engage and encourage his clients in recovery from very serious brain injuries. He profusely enjoyed helping people from all different backgrounds and abilities learn to reclaim their independence, and he took immense satisfaction in watching them return home to their lives. Deciding to change careers, Daniel started working in sales and soon found his niche in the flooring industry. Actively spending his free time researching and improving his knowledge in product and systems he was awarded a top ten sales associate in his company from the west coast to Ontario. He found his success through hard work, a sterling reputation and an unparalleled approach to customer service. Kelowna House of Floors approached him and offered him an opportunity to join their very successful team which he excitedly jumped at! Daniel's upbringing comes from a family of home builders. He stopped counting at 34 moves by the time he was 18 and has been involved in countless builds around Kelowna and the valley. He grew up as a child swinging hammers, cutting wood and he loves getting his hands dirty. Recently married to his lovely wife Padminnie, they spend their free time exploring this beautiful country and enjoying their life together. Daniel is excited to accept any challenge and leave you with a smile afterward. Please feel free to reach out and explore options together for your present and future builds!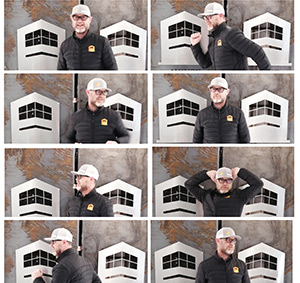 ---
Darin Scot
Sales/Project Manager
Darin Scott grew up in the Okanagan in the town of Peachland. He now lives in Kelowna and has deep roots in the community. He has a wide variety of interests including Disc Golf, Vespas, live music and swimming in the lake. He also is a regular donor to the Canadian Blood Services and has 2 teenage sons 15 & 17. After working in the construction industry for 10+ years he went back to school to develop other skills. Once completing accounting and business courses at Vancouver Career College he worked as Payroll Administrator in a Cabinet making/Door Shop. Quickly he found out that he had knack for sales. Eventually the transition to flooring sales was a natural move. With an emphasis on hardwood flooring applications. Ewan spoke to Darin on the phone for 2 years discussing different projects but never met in person. When Ewan was expanding to a larger, better Kelowna House Of Floors there was an opportunity to join his team at the start of 2020. Finding out House Of Floors and his values aligned was important. As Darin knew it was the right fit when Ewan told him about the charity work that House Of Floors does. Especially Bats For A Cause and all the sport team & individual sponsorships. Giving back to the community is very important to him. With emphasis on building relationships with a community that supports you everyday.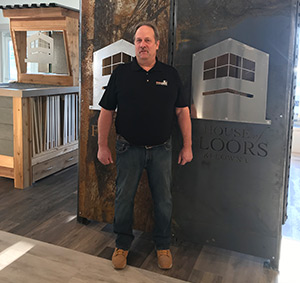 ---
Dennis Manns
Dennis Manns recently moved back to Kelowna after a 20-year absence and he and his wife Donna couldn't be happier. "Kelowna is such a great city to be part of and the lifestyle and surrounding area are second to none". Dennis started his career in sales of building related products while still in high school and has stayed in the industry since. He has managed 6 individual locations throughout BC and Alberta and most recently provided vision, team development strategies and operational guidance to 15 showrooms in his roles as BC, Alberta and Midwest Showroom Manager and Western Canadian Showroom Operations Manager for one the largest plumbing wholesalers in Canada. It was extremely important to Dennis that he found a place on a Team whose values mirrored his own. He was searching for a business that has a culture of building positive relationships and committing to the success of the Team, their Clients, their Clients' clients, their Trades and their Vendor Partners. All of these values were ingrained in the culture at Kelowna House of Floors with a bonus, they believe in giving back to the community that made them successful. When not at work Dennis and his wife Donna will be found on or near the water with fishing rods in hand.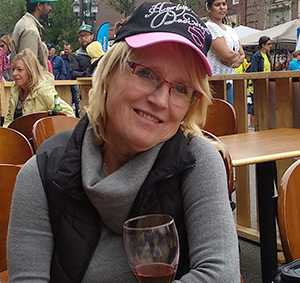 ---
Laura Beaudry
Sales/Project Manager
Laura Beaudry was born and raised in Vancouver and moved to Penticton 1991. She opened one of the largest flooring stores in the Okanagan Valley at the time, and ran it for over 10 years. After a long stint in Alberta to run a tile installation business and manage a flooring store for seven years, she was homesick to come back to the Okanagan. She now calls Lake Country her home. Her over all experience in the flooring industry is more that 30 years. She is a tile and stone guru, with an eye for detail and a personality you can't help but love. Ewan made her dream come true when he offered her a Sales/Project management position here at Kelowna House of Floors as she is now able to continue the career she loves, in close proximity to her family and friends. In her leisure time she likes to travel to warm tropical destinations. She has been to Hawaii, Jamaica, Panama Canal, Cayman Islands and multiple cruises…but she always comes back "home" to the Okanagan.